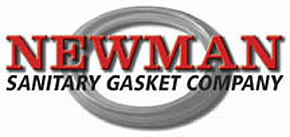 Orifice Plate Gaskets
Components are used in processing pipeline systems for the food, dairy, beverage, pharmaceutical and bio tech industries. The products are manufactured from EPDM, Viton®, Buna-N, and Silicone, as well as gaskets made with Teflon® fluoropolymer. All compounds meet the criteria of the FDA, and some compound formulations have also been certified and accepted by the USDA and USP Class VI ccompliant.
Metal inserts are a type 316 stainless steel 1/16" thick with a standard 1/8" center hole. Special ID's are available as well as blank discs.
Mini Orifice Plate Gaskets

Part Number
A84MP-U
A84MP-SFY
A84MP-E
A84MP-XW
A84MP-G

Material
Buna-N
Viton®
EPDM
Silicone (white)
Teflon® fluoropolymer
(solid 3/4" only)
Size
1/2" & 3/4"
Bonded Orifice Plate Gaskets
Part Number
A80MP-U
A80MP-SFY
A80MP-E
A80MP-XW
Material
Buna-N
Viton®
EPDM
Silicone (white)
Size
1 1/2", 2",
2 1/2", 3",
4" & 6"
Removable Orifice Plate Gaskets
Part Number
A80MP-U
A80MP-SFY
A80MP-E
A80MP-XW
Material
Buna-N
Viton®
EPDM
Silicone (white)

Size
1 1/2", 2",
2 1/2", 3",
4" & 6
Solid Orifice Plate Gaskets

Part Number
40MP-UB
40MP-SFYB
40MP-EB
40MP-XBW
A80MP-G

Material
Buna-N
Viton®
EPDM
Silicone (white)
Teflon® fluoropolymer
Size
1", 1 1/2",
2", 2 1/2", 3",
4" & 6
Slit ID Gaskets
Slit ID gaskets are used with the removable orifice plates, screen gaskets and perforated disks

Part Number
A40MP-USID
A40MP-SFYSID
A40MP-ESID
A40MP-XWSID

Material
Buna-N
Viton®
EPDM
Silicone (white)

Size
1 1/2", 2",
2 1/2", 3",
4" & 6